Coinranking gives all the information you need on thousands of cryptocurrencies. But what are they all about and who is behind them?
We asked several cryptocurrency projects for 5 minutes of their time to get the answers. All within a 5-minute read! Today, we speak with Guilherme Jovanović, Chief Business Development Officer of Indacoin. Indacoin is the longtime partner for Coinranking's Prediction Contest. Find out this week's contest and make a prediction yourself!
"Being part of the movement that is making cryptocurrency mainstream and accessible to new users worldwide is very exciting."
In case someone has never heard about Indacoin, how would you describe it?
"I would say that Indacoin is an instant exchange and mobile wallet that allows anyone to buy crypto easily with a bank card without registration. As well, with the focus on enabling Visa and Mastercard payments to any crypto/blockchain-related business who wants to facilitate and speed up the buying process."
Who is the target group and how do they use the Indacoin platform?
"Indacoin is designed to help users who are not familiar with crypto and might even be buying it for the first time. They can buy crypto easily on our instant exchange and store it safely on our mobile wallet, moreover, they can also buy it from one of our sixty partners who use our gateway through an API."
What challenges do you encounter while building out Indacoin? How do you overcome them?
"The biggest challenge we faced by starting to process credit cards, was the huge amount of existing fraud. Hackers constantly try to buy crypto with stolen credit cards, and they have all sorts of ways of passing KYC with fake documents and strong computer skills. So, we figured out even KYC, 3Ds requirements and blocking high-risk countries is not enough protection. It's crucial to have a strong Anti Fraud platform and a 24/7 team that will analyze potential fraud on each transaction and maybe even make short interviews with some users to determine their reliability."
What exciting platform updates or product features have you launched, in recent times?
"The past six months we have been working on many projects internally. And still do. We are improving our mobile wallet and main exchange. Overall we want to enhance our service."
What does the near future of Indacoin hold; around product launches, platform extension and/or new partnerships?
"We have our IEO coming in a month. The goal will be to promote our affiliate program. Some big partnerships are to be announced and other secret developments to be launched. And very soon we'll be adding several new FIAT currencies. Users will be able to buy crypto with their own currency without losing money on exchange rates."
"The whole vision of the company is to open up the market and enable a massive crypto adoption."
What are you currently working on personally at Indacoin?
"As Chief Business Development Officer, I coordinate all business activities and strategies. I'm managing a team of managers; our main goal is to strengthen our image and enabling Indacoin to grow globally every day. My focus thereby is partnerships and our relationships with current and future partners."
How did you end up at Indacoin?
"The main reason I decided to join Indacoin was the team itself. Everyone is friendly, motivated and extremely talented. The atmosphere is very relaxed, yet, very exciting and the whole vision of the company is to open up the market and enable a massive crypto adoption. Which is a big challenge, but simultaneously very motivating. And the idea that one day, I may be in the "history books of crypto" for being part of the force that helped crypto becoming the main global currency thrills me!"
What excites you most about working on the Indacoin project?
"First of all working in an innovative field: cryptocurrency. And I like the nature of the project itself, that is related to a fast-growing and at the same time controversial industry. Moreover, meeting amazing individuals from across the globe, and enabling other businesses to grow is extremely self-rewarding. Also being part of the movement that is making cryptocurrency mainstream and accessible to new users worldwide is very exciting."
Could you describe a typical day at work?
"We don't have a fixed working schedule. You can come whenever you feel like, or at least before twelve. So I would say I usually start around 10:30. On my way, I grab a coffee near the office, and I often see several things going on, such as recording ads, photoshoots for magazines, sometimes even artist recording videoclips. (Our office is located in a very alternative/stylish neighborhood.)"
"When I arrive, I first check my agenda and organize my day. Then I have a team meeting and discuss in detail each manager's goals for the day and the overall week. Together we find out how those goals can be achieved. The rest of the day differs."
What unusual work tradition do you have as a team? (At Coinranking we play frisbee together after lunch, for our daily exercise).
"We have a really cool atmosphere here and our team is young, with an average age of 26. Every afternoon our whole team goes to an outdoor gym to do some exercise. When we feel bored during workinghours we walk around the office and spoil Mr. Grey. When we are tired and need a break we just lay down and take a nap on the sofas."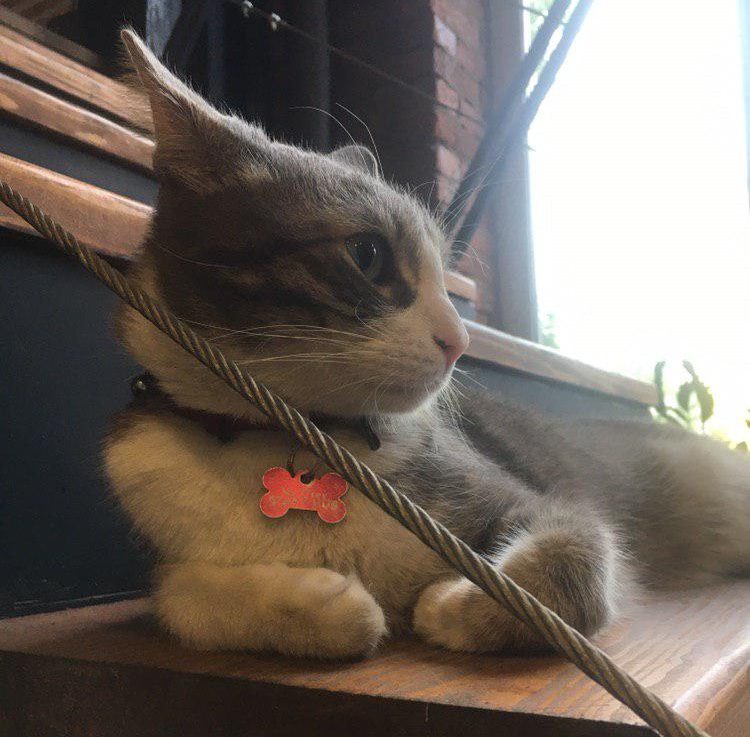 Where will the crypto space be in five years?
"Due to the speed, security and convenience of cryptocurrency, I believe it will replace FIAT for many daily life activities, such as shopping, paying for transportations, restaurants, etc. Most importantly, international trading of crypto will be a must in order to avoid high banking fees, conversion fees, long waits, frozen accounts, and the list goes on… Crypto in short words is the main push for economic globalization, and it will definitely promote trade relations between countries and have a strong role in the de-dollarization process."
"I can't tell you what it is, but I think I can give a clue…"
Lastly, any final things we should know about Indacoin?
"Actually, in one month we are launching something really exciting. So stay tuned on our website and socials to find out what it is. Something cool is coming!"
Can't you tell us a little bit more about it?
"I can't tell you what it is, but I think I can give you a clue… It has something to do with general complaints about digital coins, that you cannot touch nor see it. For people who say that we're creating something. Something that you'll be able to touch…"
We're looking forward to finding out what it is! Thank you for the interview, Guilherme!
Before moving on…
Make sure to download the Indacoin mobile app or check out the Indacoin website to stay tuned about exciting updates.
And…
Every week you can predict cryptocurrencies with Coinranking's Prediction Contest on Twitter, sponsored by Indacoin. The closest prediction wins around $100 in a particular coin. Find out this week's contest and make a prediction yourself!