In this top 5 there are only coins included from the global top 100, ranked by market cap.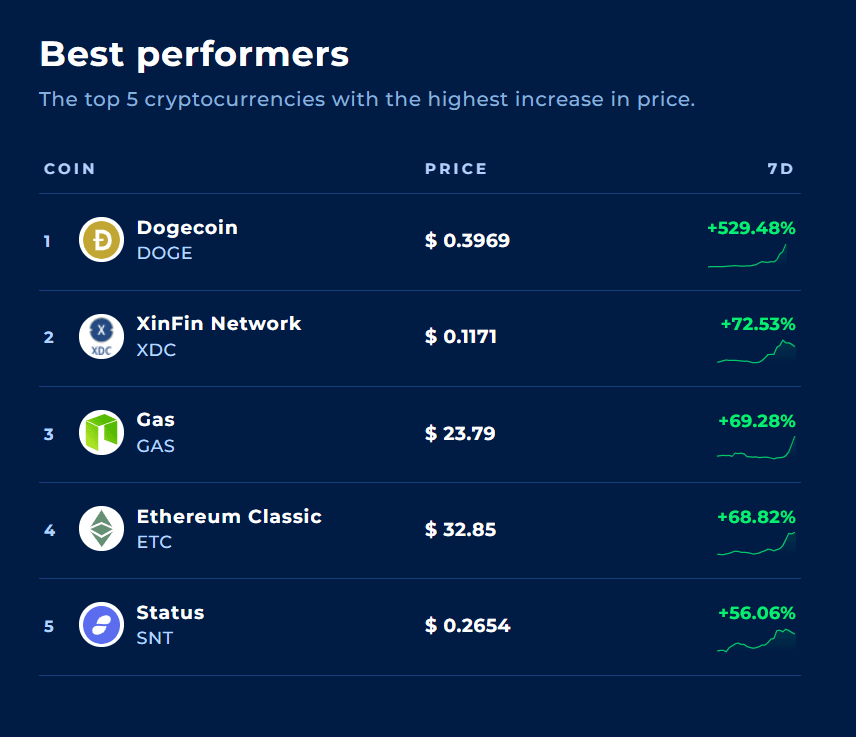 Dogecoin (DOGE) 🐶
Dogecoin is the absolute winner this week! DOGE increased by more than 500%(!) in 7 days and became the world's 5th-biggest cryptocurrency in terms of market cap.
The coin that once started as a joke, now has a price of $0.3969.
Find out more about DOGE on Coinranking.
XinFin Network (XDC)
Second in line is XinFin Network, which gained 72.53%. XDC is ranked at 83 and has a market cap of $1.40 billion.
XDC is the native token of the XinFin Network, a blockchain technology company based in Singapore.
The price of XDC is currently $0.1171.
Find out more about XDC on Coinranking.
Gas (GAS)
Gas comes in third with a price gain of almost 70%. Gas is 68th in our ranking and has a market cap of $1.97 billion
Gas is built on the NEO blockchain used to fuel the execution of smart contracts.
One GAS token currently cost $23.79.
Find out more about GAS on Coinranking.
Ethereum Classic (ETC)
The fourth spot this week is for ETC, the native token of Ethereum Classic. ETC gained 68.82% and has a market cap of $3.81 billion.
ETC trades at $32.85.
Find out more about ETC on Coinranking.
Status (SNT)
Last in this top 5, but definitely not least is Status. Status, ranked 96, allows people to anonymously send and receive messages and cryptocurrency. Its Status Network Token (SNT) increased by 56%. SNT has a $1.04 billion market cap.
Current SNT price is $0.2654.
Find out more about SNT on Coinranking.