Written by an alternative to CoinMarketCap. Biased? Probably. Accurate? As always. 😉
Price trackers to the rescue
Every day new cryptocurrencies are created. Meanwhile, there are already more than 10,000(!) coins out there. It comes down to more data, more options to invest in, more information to keep up with. That would be extremely hard to do if there weren't platforms like CoinMarketCap and Coinranking. These platforms, called price trackers, provide a ranking list of the coins, their current values, an overview of the crypto market as a whole, and more useful information to help you make well-considered trading choices. Though CoinMarketCap is still very popular, more and more crypto enthusiasts are looking for reliable and objective alternatives to check crypto prices.
The best 5 cryptocurrency price trackers.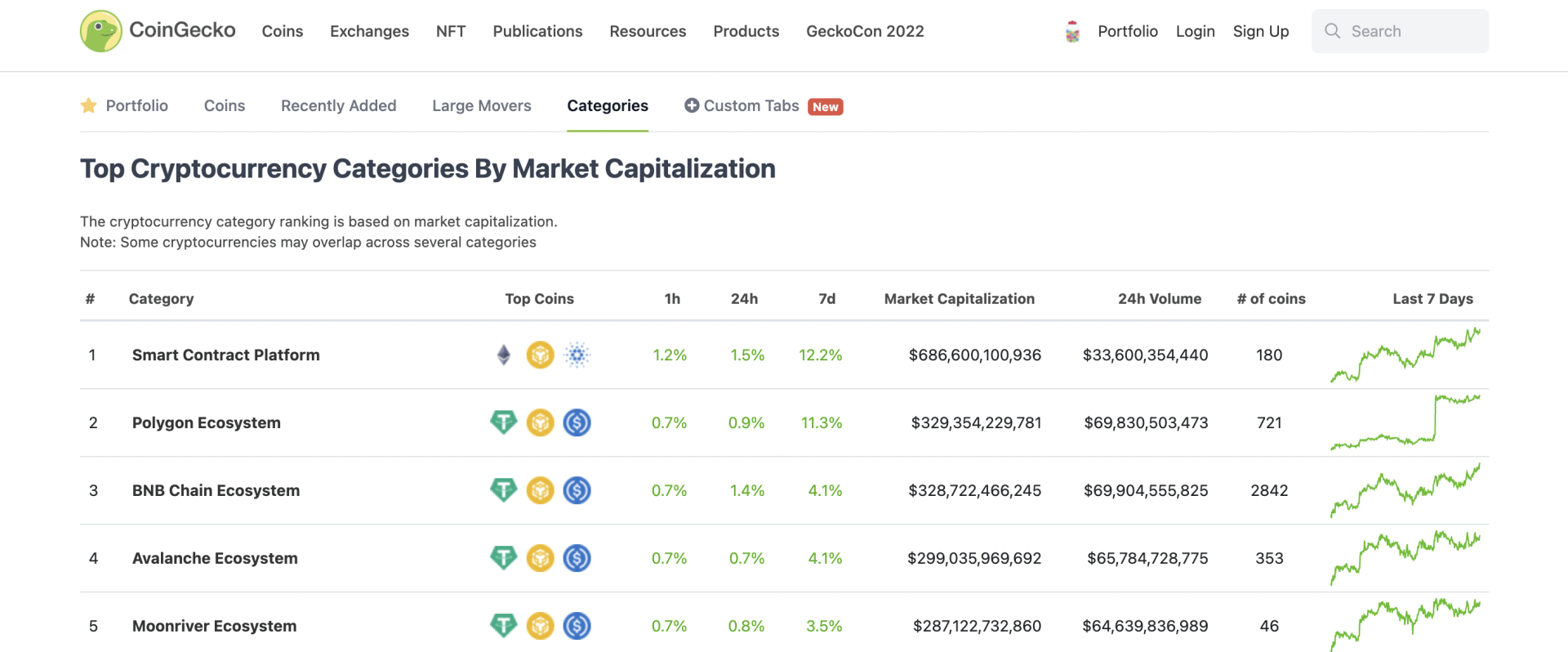 Since CoinMarketCap was acquired by Binance, CoinGecko has been winning over a large number of users and skyrocketing its market share. Why? Because their data has proven to be accurate and complete. The features they add fit the current trends, like DeFi and Yield Farming trackers. Their coin category page on which you can also see the top coins of each category is one of my favorites.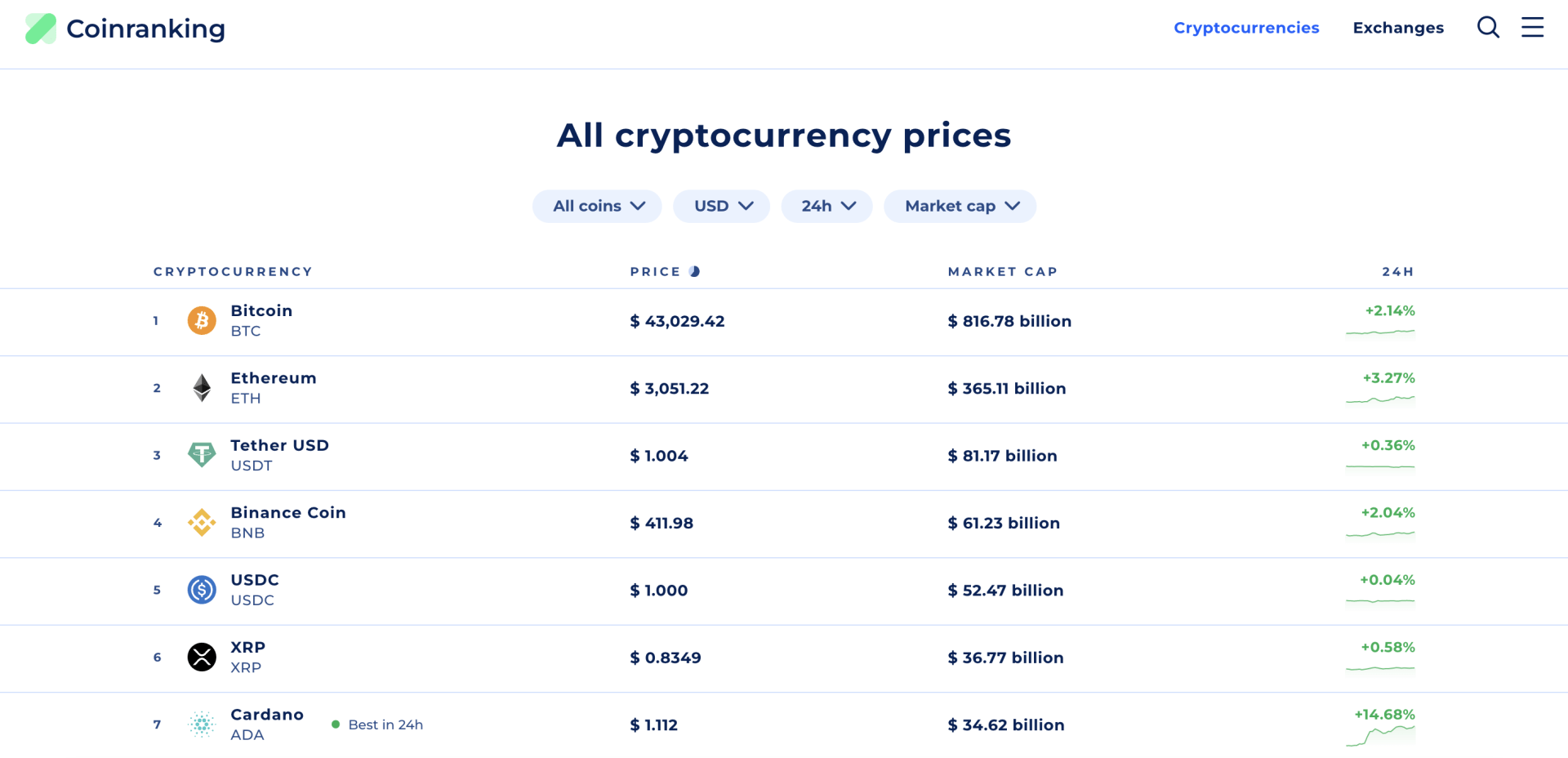 Yep, that's us. Humble as we are, putting ourselves on the second spot. So… Why use Coinranking to check cryptocurrency prices? The answer is as simple as the platform itself is. Designed to be straightforward and attractive, without rumble-bumble. In the ranking list you see important data, like the market caps, the current price, and a mini price chart, without being distracted by more data than you need.
Also neat: real-time prices, the price converter, and price-performance chart on the coin pages.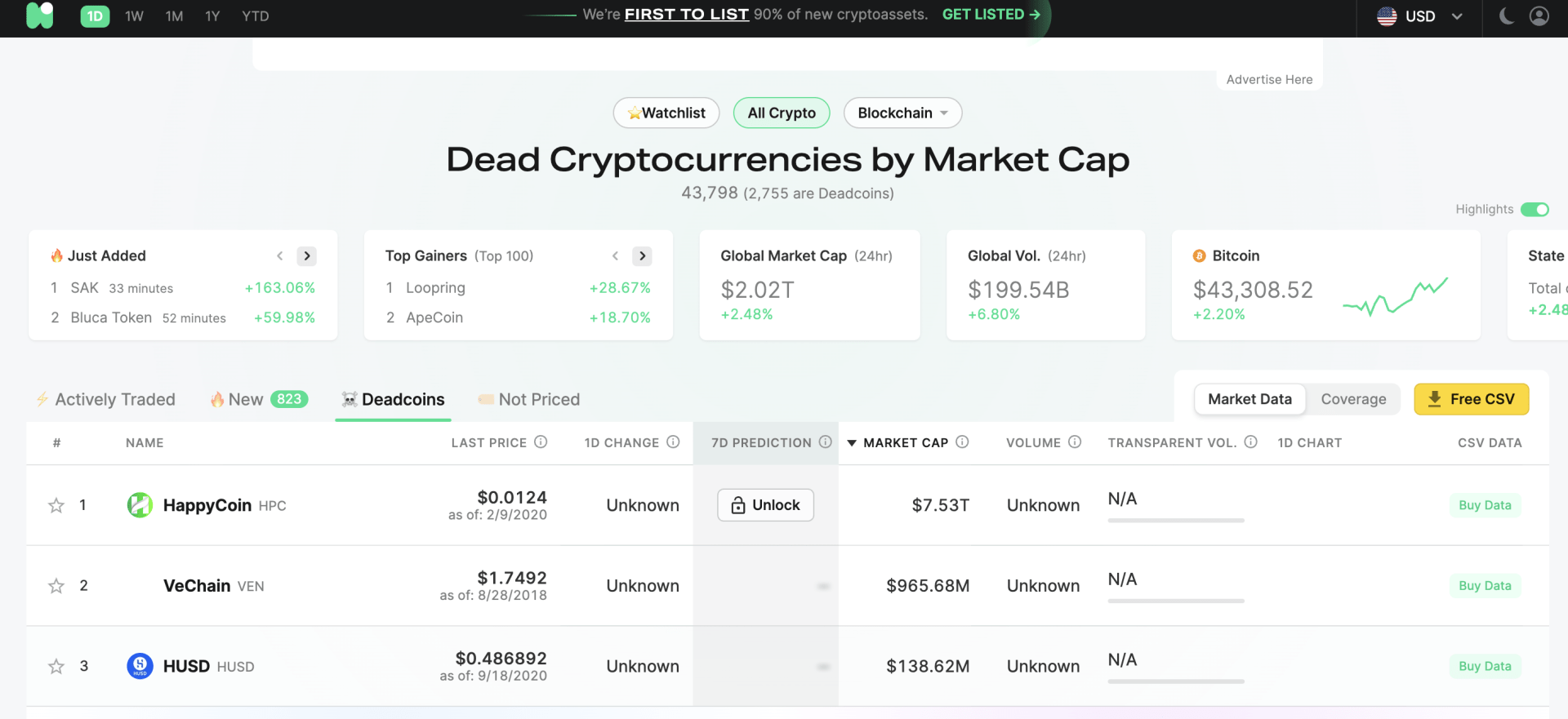 Nomics is ahead of adding new coins. They claim that 90% of the coins are first listed with them, and hard to argue that since they have over 42K coins listed. A positive sidenote is that they point out how many of these are currently actively trading. A downside is that there still can be a lot of scams among them, making it hard to tell which coins you should really watch. Cool feature: the option to filter on blockchain.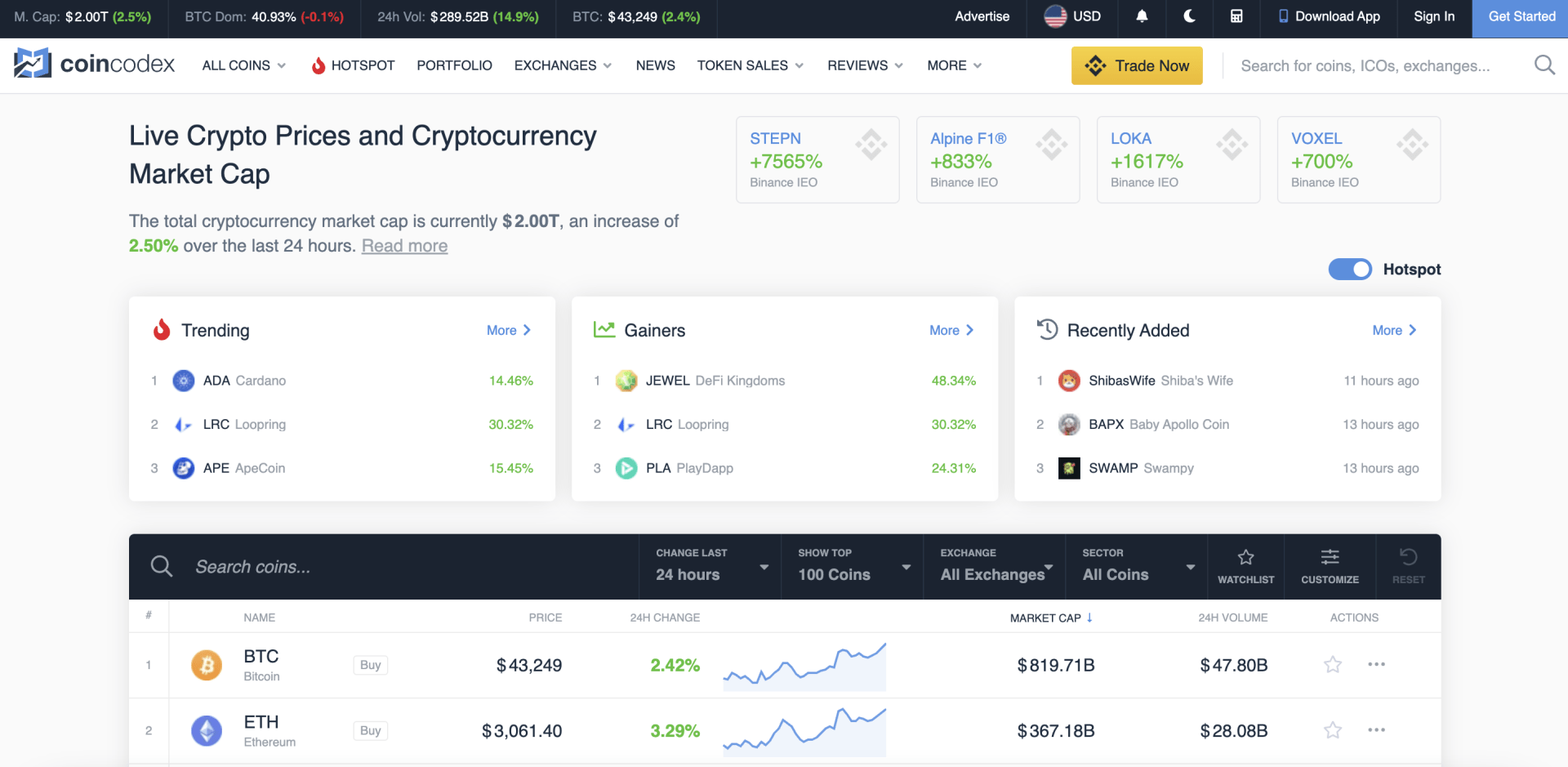 If you visit CoinCodex the first time, you might think "Hey, this reminds me of CoinMarketCap!". And you're right because CoinCodex also displays the trending, the biggest gainers, and newly added coins on top of the homepage, giving it the same first impression (on desktop). Useful overview, if you ask me. What I also like is the overview of the current token sales. Clicking one of these coins brings you to the dedicated coin page with more information, which could help you in making investing decisions. (Please, always make sure to do your own research. Investing always comes with risks.)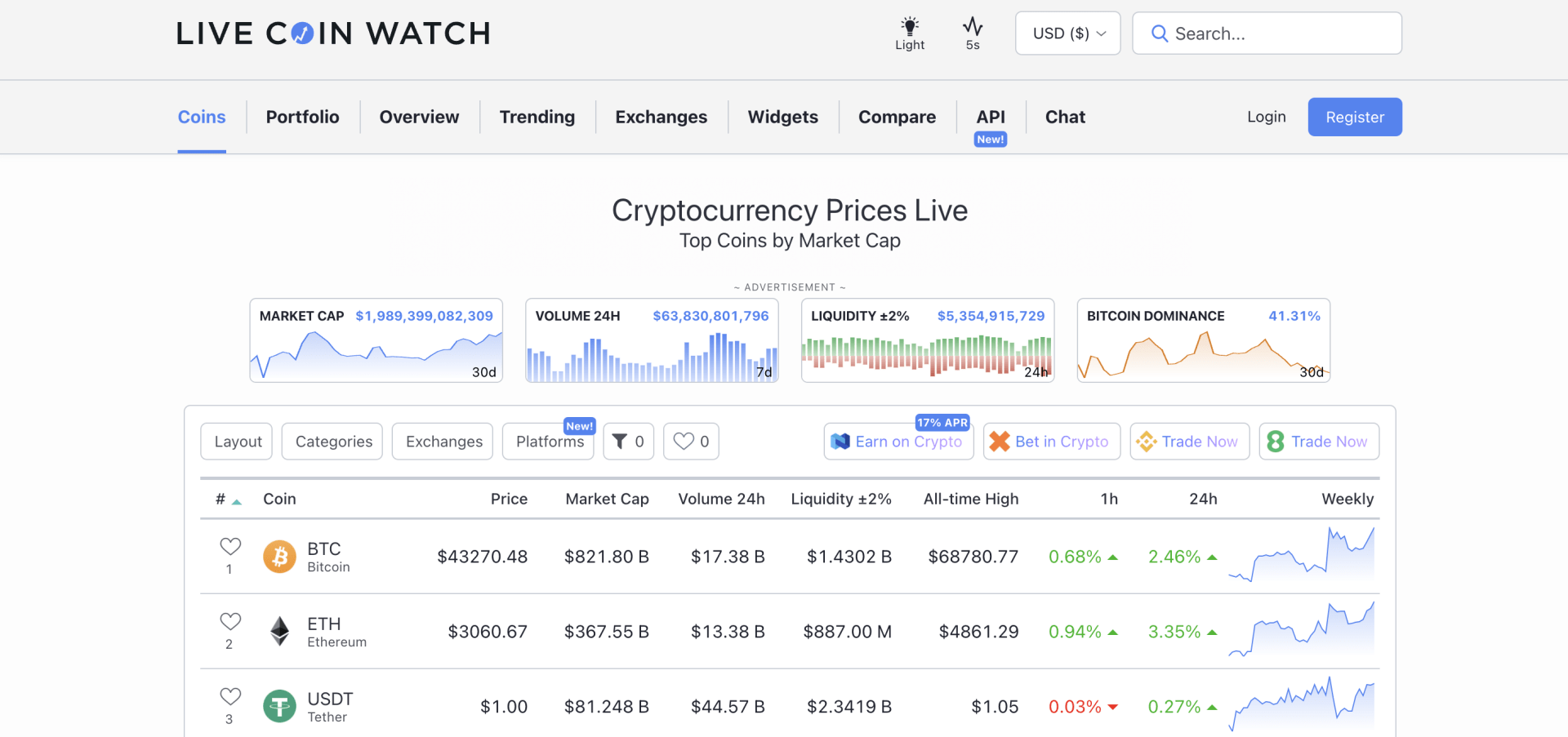 Even though I'm not a big fan of the design, it's quite nice to set up an account and create a portfolio, track particular currencies, and make a watchlist. They also have a new feature now to filter by exchange or blockchain (if you figured out the icons;)). But even better is their coin compare tool, with which you can compare any coin on price, market cap, and supplies.
Last thoughts
It's up to you which price tracker suits you best, but I'm glad to have told you about the various options you can use. Of course, we at Coinranking are more than happy to welcome you as a daily visitor, but most of all do we want you to have financial freedom. And I cannot point out enough that you always have to be careful whenever it comes to investing and buying coins.
Oh, and btw, if you like using Coinranking though have some suggestions on how to improve it, we love to hear from you! Use this form to submit your feedback easily.