In this top 5 there are only coins included from the global top 100 of Coinranking, ranked by market cap.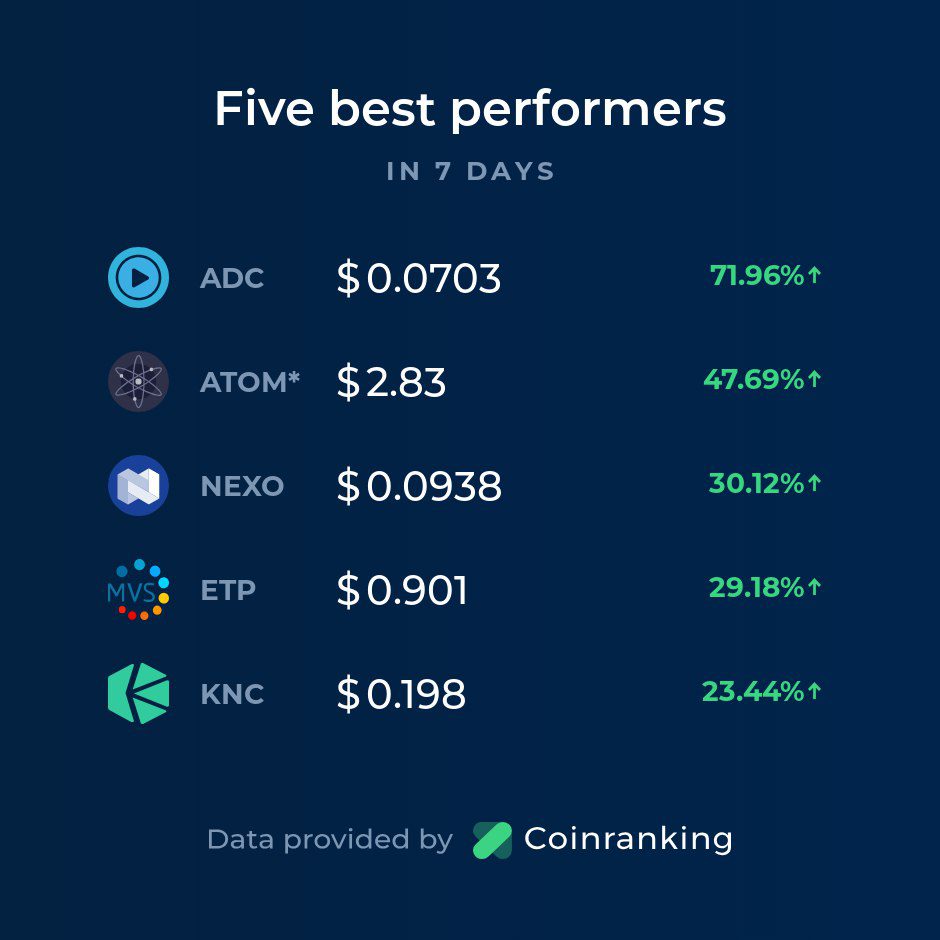 AudioCoin (ADC)
AudioCoin ($0.0703) is the clear winner, because it gained 71.96% in the last 7 days. The coin is currently placed at rank 70 with a market cap of $65.03 million.
The project aims to be a serious virtual currency for the music industry.
Learn more about AudioCoin on Coinranking
Cosmos (ATOM)
Cosmos ($2.83) comes in second with a 7 day price gain of %47.69. Its market cap is currently $532.06 million with a rank of 23, at the time of writing.
Cosmos is building the internet of blockchains as they call it. Currently, blockchains are mostly isolated and are not capable of communicating to each other. The project tries to solve this issue by connecting every blockchain.
Learn more about Cosmos on Coinranking
Nexo (NEXO)
Nexo ($0.0938) has the third spot in the top 5, because its token price surged with 30.12% in the past 7 days. The token has a rank of 73 with a market cap of $60.95 million.
The token is launched by lending platform NEXO, which provides loans to people by asking for cryptocurrency as collateral. This means you could get a loan without selling your cryptocurrency.
Learn more about Nexo on Coinranking
Metaverse ETP (ETP)
Metaverse ETP ($0.901) has gained 29.18% in the past 7 days and is currently ranked at 86, with a market cap that totals $46.41 million.
Metaverse ETP is a blockchain for issuing digital assets and digital identities. The project digitizes rare items such as artwork, antiques or intellectual property for example.
Learn more about Metaverse ETP on Coinranking
Kyber Network (KNC)
Kyber Network ($0.198) comes in fifth with a 7 day gain of 23.44%. The coin is currently ranked at 96, with a market cap of $33.65 million.
Kyber Network is built on the Ethereum platform. The project enables instant exchange and conversion of crypto tokens in a decentralized fashion. The KNC token is used to pay for exchange fees on the exchange.
Learn more about Kyber Network on Coinranking