We are excited to announce that Coinranking, a premium data provider for aggregated cryptocurrency prices and market data, will be launching our own Chainlink oracle node. By doing so, we will be able to cryptographically sign all of our API data on the blockchain (on-chain) and sell that signed data directly to smart contracts. This ensures our data is in the correct format to be consumed by smart contracts and generates definitive proof on-chain that all data from our Chainlink node is directly from our API.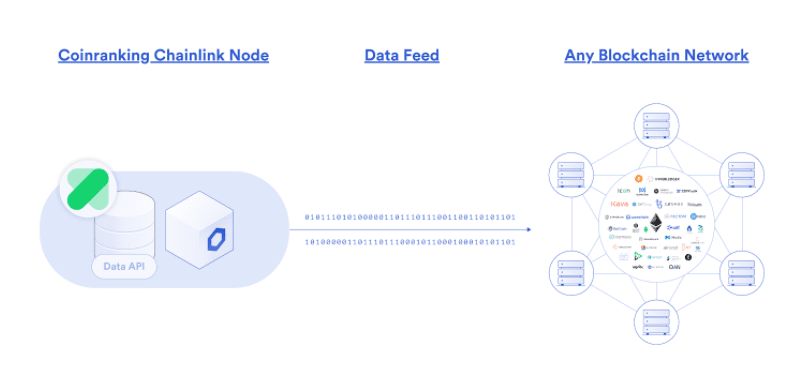 Chainlink has established itself as the most widely used oracle solution in the market, securing billions of dollars in value for leading DeFi applications. We plan to leverage Chainlink to sign and directly broadcast our crypto market data across numerous blockchains as a means of expanding the addressable market for our data. This gives dapps across a multitude of blockchain ecosystems full access to all of our APIs, empowering developers to build various DeFi applications in lending, derivatives, automated trading, and much more.
Expanding DeFi Through Reliable Data
As a data provider, Coinranking specializes in generating cryptocurrency prices and crypto-market data. Developers can call our API to get access to volume-weighted average prices on thousands of cryptocurrencies, tap into the circulating, total, and maximum supplies of every cryptocurrency, make requests that are priced in the fiat currency of their choosing, get accurate prices and trading volumes of tens of thousands of markets from hundreds of exchanges, and more.
"We aim to utilize Chainlink as a means to support DeFi's growth by making our highly reliable and unique data available on various blockchains."
As DeFi begins to expand, so too does the need for more price feeds and additional datasets beyond price feeds as a means of creating localized and/or more exotic financial products directly on the blockchain. Given our increasing collection of market data and the ability to price crypto-assets in local fiat currencies, we aim to utilize Chainlink as a means to support DeFi's growth by making our highly reliable and unique data available on various blockchains.
"Oracles are critical to connecting the current API economy to the rapidly growing ecosystem of blockchain networks."
Since smart contracts cannot natively make API calls to external systems, we required a blockchain oracle to bridge the gap between blockchain smart contracts and our off-chain APIs. Oracles are middleware that retrieve external data on behalf of the smart contract, attest to its accuracy (through digital signatures), aggregate it (when using multiple sources/nodes), and broadcast it onto the blockchain so smart contracts can use the data in their execution. Oracles are critical to connecting the current API economy to the rapidly growing ecosystem of blockchain networks.
Seeing its rapid adoption as the most widely used oracle solution in the market, we recognized the Chainlink Network as the best opportunity to monetize our data for the smart contract economy. Some of the key features available to us as a node on the Chainlink Network, which we did not find on other oracle solutions, include:
Signed Data – Chainlink nodes cryptographically sign every piece of data transferred between systems, allowing us to provide definitive on-chain proof that our data came straight from the source.
Sell to Any Blockchain – Chainlink nodes are inherently blockchain-agnostic and thus can be integrated natively into any blockchain, creating a single gateway from which we can sell to all blockchains that exist both now and in the future.
Large Market of Users – the Chainlink Network is the most widely used oracle solution in the blockchain ecosystem with adoption from many leading DeFi players, ensuring our data already has a large accessible market of potential users.
Proven Security – Chainlink is thoroughly audited open-source software that collectively secures billions of dollars in value for live applications, proving its ability to protect and trigger the movement of real value economic value.
We look forward to building a strong reputation as a trusted data provider in the Chainlink Network and supporting the growing DeFi ecosystem with on-chain, cryptographically signed data.
"We are thrilled to launch a Chainlink node so we can provide DeFi applications with key datasets needed to build next-generation protocols, dapps, and assets," said Maarten Wiersema, CEO and Co-founder of Coinranking. "Chainlink's proven oracle technology allows us to both sell our data to any blockchain and enhance our data's security via new data signing capabilities. This provides us with an opportunity to make our data easily accessible to blockchain applications, both increasing our addressable market as a data provider and seeding the next wave of growth for DeFi."
About Coinranking
Coinranking provides up-to-date and reliable data of all digital assets, to millions of people worldwide. The data of the Dutch price tracker contains live crypto prices, price history, market capitalizations, and much more. Coinranking tracks nearly 11,000 coins from more than 350 crypto exchanges. In addition to the crypto-market data, Coinranking extended its platform with non-fungible tokens. Therefore, Coinranking is the first crypto price tracker combining data about cryptocurrencies with NFTs.
Check out our website, give us a follow on Twitter, or come say hello in the Coinranking Telegram Community.
About the Chainlink Network
The Chainlink Network is the most widely used and secure way to power universal smart contracts. With the Chainlink Network, developers can connect any blockchain with high quality data sources from other blockchains as well as real-world data. Managed by a global, decentralized community of hundreds of thousands people, the Chainlink Network is introducing a fairer model for contracts. Its network currently secures billions of dollars in value for smart contracts across the decentralized finance (DeFi), insurance and gaming ecosystems, among others.

The Chainlink Network is trusted to deliver definitive truth by hundreds of organizations to provide continuous, reliable data feeds. To learn more, visit chain.link and follow @chainlink on Twitter.